Well, it's been 8 days since my last post. I really wanted to try and blog more often...these past couple weeks have been crazy. DH was quite sick with bronchitis, Budderoo's ear infections did not clear up and had to go back on a stonger medication...Last Friday, I finally caught the cold that has been going around my house for the last month or so...Felt horrible over the weekend and it then turned into a very bad ear infection.
Yesterday, I felt like my ear was going to explode and I couldn't wait for my last daycare child to leave so I could rush to the walk-in. Where the Dr said, my ear infection is quite bad and it may burst...EEEK! I have never felt such horrible pain. I now know just what our kiddies are feeling when they come down with an ear infection. Poor babies! Thankfully, my meds are working quickly (as I am on a very strong dose) and my pain has definitely decreased.
This weekend was absolutely beautiful. Sunday the temperature hovered around 12-14c...it was beautiful. DH and I thought, despite my cold, that we should take advantage of the weather and visit the
Maple Syrup Festival at Bronte Creek Provincial Park.
First, we went on a guided tour of 'Maple Lane' where Sheila, our guide, was dressed in traditional 1890s clothing. She taught us how to tap a tree, where HoneyPie was chosen to help her hang the bucket onto the "spile". HoneyPie was so excited!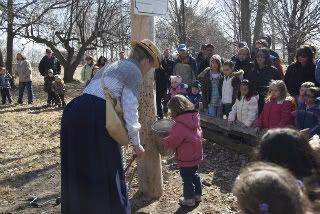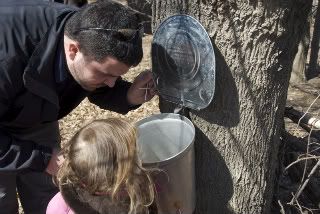 Once done the tour, you can visit the Spruce Lane Farm where they have 100+yr old artifacts in the Farmhouse, a maple museum and a maple gift shoppe where they sell souvenirs and lots of maple syrup and sugary treats. We purchased a 500mL bottle of maple syrup for $13. I think the highlight of HoneyPie's day was the treats Daddy bought her - maple suckers and maple taffy (Mommy liked this, too)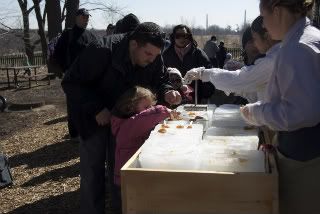 Being such a beautiful day, there were hundreds of people there so unfortunately we weren't able to hop on their wagon down to the Pancake House. HoneyPie was so disappointed, but the line-up for the wagon ride was over an hour long, and the wait at the Pancake House (where they serve pancakes, bacon and sausages) would've been just as long. There were a few tears as we were leaving, but the promise of coming back again cheered her up, kind of. It was such a great day spent with my wonderful family! We had a
sweet
time! (hee hee)
Hugs,
Hollie