Had a great week and it showed tonight on the scales.
I lost 2.0lbs putting me at a total of 20.8lbs lost!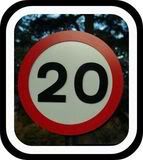 I was thrilled. I'm pretty sure this is the most that I've lost on my 3 journeys with Weight Watchers. I am determined to stick with it this time and get to my goal...and hopefully become a lifetime member.
Some things that may have attributed to my successes this week are:
*I started to exercise. We have a fantastic treadmill in our basement that has been sitting pretty well unused for quite some time, so I decided to start using it. I walked/ran 3 times this past week - and plan to continue this routine.
*I stuck with the Garden Vegetable Soup (see recipe below Weight Loss Wednesday # 2 - April 8th) I made a double batch and it lasted me almost all week
*Enjoyed the sunshine and played outdoors with the kids
This week, an old friend joined...Christine has decided to attend the meetings on Wednesdays, that way we can go together. As I mentioned below, it's been hard for me to get to meetings knowing I have to sit alone (I'm a suck that way LOL). I am happy that we can travel on this tough road together...and am looking forward to seeing her more often.
Good luck this week, Christine!
Off to bed with me now...just spent 2 hours getting all the daycare tax stuff in order to send off to our accountant tomorrow.
Nite Nite
~ Hollie