Why does summer always go so quickly? The older we get, the faster time seems to be going.
We had a wonderful summer - some fun day trips, our HoneyPie's 4th birthday, a great week at the cottage despite the weather.
DH left on July 2nd for Sweden. His best friend, Sean, was getting married there. Sean moved there a while back to play pro volleyball...and there he met Hanna. DH was the best man - and was so excited to be able to stand up beside Sean at his wedding, but also to be able to tour Europe. Flying in to London, a day there with his cousin Brenda, and then on to Copenhagen where he met Sean and his future brother-in-law...then on to Sweden. He had a great time - we missed him terribly. I always have a hard time if he is travelling in a different time zone - but the time difference was huge. We'd call him after nap and he was getting ready for bed. 11 days was so long - we were so excited to see him at the airport! The kids reaction was priceless, I wish I would've gotten it on film.
When I was pregnant with Budderoo, I joined the March 2008 birth club on babycentre.ca - there I met a wonderful group of ladies, all over Canada, who were all due in March. We soon became online friends, chatting daily about our pregnancies, our births, our newborns and now our active toddlers. This July, we arranged a picnic for all of the moms in our area. Although only 5 of us could make it...it was so much fun to finally meet in person the wonderful ladies that I've shared my stories with the past 2 years. I hope we can do it again next summer.
On July 16th, we lost our dear friend, Sharon - our wonderful neighbour, who fought so hard for 2 years, lost her battle with cancer. Although we only knew her and her family for 1 year, we knew how amazing she was - the mother of 3 awesome children, a wife, a sister, a daughter...a friend. She is missed by so many - we were extremely saddened by her passing, but comforted by the thought that she is no longer suffering. We miss her everyday.
As I mentioned in my previous post, HoneyPie turned "4"! WOW!
We spent a week at the cottage that my family has rented since 1988. Shady Nook cottages in Sundridge, Ontario. I LOVE it there - as a child, I looked forward to our week away - my cottage friends, the lake - and now spending a week there with my own family as well as my parents and sister is great. Making fun memories with my kids on the same beach I spent so many days and nights playing on. The week we were there, sadly wasn't the greatest weather wise - but we had a great time anyway. On one gloomy day, we took the kids to Santa's Village in Bracebridge - so much fun!!!!
Fun on the tire swing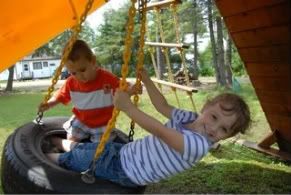 Santa's Village - riding the train

We spent a great day at the CNE the last weekend of summer. The kids had a great time - so did DH - he has discovered that he loves him a good air show. DH and HoneyPie had a ball playing this bowling game - seriously, can anyone ever win at this game?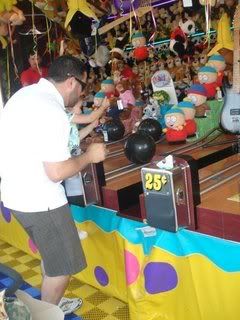 We had tons of fun - the closing of the CNE always means the end of summer doesn't it?
So sadly, I say goodbye to:
* flip flops * sandals * tank tops * splash pads * sprinkler fun
* hot sunny days * sunny evenings * the beach
Hate to see summer go....but
BRING ON, FALL!