This past week, I was lucky enough to get to the movies 4 times! WOW - 4 times in one week may be a record - it is definitely way more times than I've been in a month since having HoneyPie 4.5 years ago. Here are the movies I saw:
The Princess and the Frog
MONDAY - HoneyPie and I went together to see Disney's "The Princess and the Frog". My mom was going to join us but sadly was unable to as my Dad was pretty sick with an inner ear infection, poor guy. We are looking forward to the next movie we can see with Nana.
HoneyPie and I had a great time together. We went to an 11:40 show, had popcorn and M&Ms (her choice) and cuddled up together to watch this magical movie. Set in 1920s New Orleans, the movie focuses on a beautiful girl named Tiana, a frog prince who desperately wants to be human again, and a fateful kiss that leads them both on a hilarious adventure through the mystical bayous of Louisiana. Seeing such a wonderful movie with my little sweetie was just so awesome. She loved it, although was a little scared of the "shadow man" and his shadows from "the other side"...was a wonderful afternoon with my lovie.
Sherlock Holmes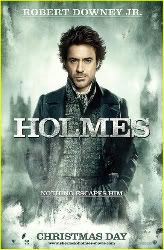 TUESDAY - Date night for DH and I. Sherlock Holmes and dinner at Walker's Fish Market - Yum-O! Another fantastic movie. Sherlock Holmes is one of the most recognizable characters in English culture. Robert Downey Jr. did a great job bringing this classic character to life...and I'm not a huge Jude Law fan, but I thought he was pretty good as Dr. Watson. Set in old London, I found the entire movie a little too grey...not much colour to the movie, but overall, it was a great flick, although DH and I were pretty disappointed that they cut out the scene of Rachel McAdams in her lingerie that they showed in the trailers. We both think she's pretty great ;) Was a super fun date night!!!! ♥
Avatar
WEDNESDAY - First of all....WOW! This movie was amazing. I really didn't think I'd like it - I didn't know too much about it going in, just figured it was very spacey from the previews I had seen. I was a bit skeptical about the 3D glasses - I wear glasses for distance and always need them at the theatre...so I wore the 3D glasses on top of my regular glasses - ha! Was a bit bulky and uncomfortable but well worth it - the movie was so visually stimulating, that I didn't care about my discomfort. The story was touching, the colours and effects absolutely mesmorizing. This is one movie I would definitely love to see in theater. Perhaps in Imax, DH?
The Blind Side
SATURDAY - This year, my BFF, Mary-Beth and I decided instead of buying each other gifts, we would just do something together. We tried to arrange a double-manicure appointment, but with Christmas and then New Year's everything was booked. So we decided on a movie instead. We headed into a very BUSY theatre to see The Blind Side. What a wonderful, heartwarming story. The remarkable story of the All-American football star Michael Oher. I HATE football, but typically LOVE football movies (i.e. Any Given Sunday, Remember the Titans, Friday Night Lights, The Replacements and who doesn't love Sean Astin as RUDY!!!!) This movie fits into my list of fave football movies. Everything about this movie was great - the story, the actors - looking at Tim McGraw for 2+ hours was nice! We joked about how horrible Sandra Bullock looks as a blonde, but as the movie went on, it seemed as though her huge blown out blonde hair toned down a bit, and actually looked nice. Right, Meggy? I always love her movies...and this one was no exception. This is a perfect date movie....sports for the guys and a wonderful story for the ladies. Definitely a must-see!
Well, I never said I was a "movie-critic" so hopefully these mini reviews weren't too painful to read LOL
4 great movies in 7 days...made for 1 fantastic week!