Tonight was weigh in night at Weight Watchers. I had done so well this past week - tracked EVERYTHING...except a little indulgence at Red Lobster on Saturday night...oh, and some fries at Swiss Chalet on Friday. hee hee. Well, my hard work paid off and I lost
1.4lbs
. This puts me at
17.8lbs
total - which is only 0.2 away from my 10%. (10% of my body weight lost).
One thing that I think really helped me was making the Weight Watchers Garden Vegetable Soup. It is 0pts per serving and was so delish. I made 1 batch and it did 3 lunches...I plan to make a double batch tomorrow. Here is the recipe
GARDEN VEGETABLE SOUP


2/3c sliced carrot
1/2c diced onion
2 minced garlic cloves
3c fat free broth (beef, chicken, or vegetable)
1 1/2c diced green cabbage
1/2c green beans
1 tbsp. tomato paste
1/2 tsp. dried basil
1/4 tsp. dried oregano
1/4 tsp. salt
1/2c diced zucchini

Spray a large saucepan with nonstick cooking spray, heat. Saute the carrot, onion and garlic over low heat until softened, about 5 minutes. Add broth, cabbage, beans, tomato paste, basil, oregano and salt; bring to a boil. Reduce heat; simmer, covered about 15 minutes or until beans are tender. Stir in the zucchini and heat for 3-4 minutes. Serve hot.
With Easter coming this Sunday, I am a bit worried about my love for chocolate. Most people at the meeting last night were worried about overeating at dinner...I guess I am, too, a bit...but I have an obsession for Cadbury's mini eggs. The Easter bunny will be bring some to HoneyPie and I'm hoping I can control my weakness for them and the Mr. Munchy chocolate bunny that the Easter Bunny is bringing me LOL. Perhaps knowing the points value will help me out and will allow me to still be able to eat these treats by working them into my daily points.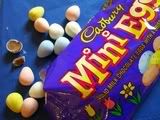 Cadbury Mini Eggs
5points for small package

Allan's Mr. Munchy 6points for 1/2pc (50g)

And for those who enjoy them....I do not....

Cadbury Cream Eggs
3points per egg)
Enjoy!
~ Hollie ~