Talking about weight is always such a taboo topic. No one wants to disclose their weight, especially women. Aren't we more likely to lie about our weight than our age? I thought about how I was going to write this post...should I disclose my weight at each stage of my weight loss journey...Am I too embarrassed to admit how much I actually weighed at the end of my pregnancies? Then I thought, who cares? I know that people are most often judged by their weight/body type...but I hope that people who read this or people that actually know me, see that I am a wonderful person and the numbers on the scale are just that...numbers - and one really shouldn't be judged on that.
As I mentioned in my first post, I am one of those girls who gain A LOT during pregnancy. I have always struggled with my weight and am on my 3rd go with Weight Watchers (WW). I joined WW just before I got married so that I wouldn't be a "chubby bride". So joining in January of '02...I worked my butt off and lost 20lbs by that April...and got married at a healthy weight of 139lbs. I felt great...and I vowed to keep the weight off and stay healthy....
139lbs on our honeymoon in Hawaii
HA, that didn't last long. I gained a bit here and there...
In June of 2004, DH and I decided to start trying for our first baby. At that time I was 155lbs, and I still felt good - I thought I looked alright....
155lbs
We got pregnant with HoneyPie that October and I really wanted to try and have a healthy pregnancy with not much weight gain. Well, this did not happen and I gained a whopping 68lbs. Ya, do the math - it was insane! I had a horrible time with water retention and swelled massively. I struggled with gestational diabetes - it was a very uncomfortable pregnancy - but giving birth to my beautiful 8lb 14oz HoneyPie - made it all worth it.
I joined WW when HoneyPie was 6 months old to help me lose the last of my baby weight. I didn't quite get there before giving up...I made it down to 164 and stayed around there until getting pregnant with Budderoo.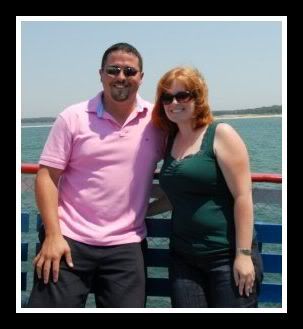 167lbs - DH and I on the ferry in Cape Cod
My pregnancy with Budderoo was even worse than HoneyPie's...I gained 55lbs and had a harder time with my gestational diabetes - this time I had to go on insulin and swelled just about the same - Budderoo was huge (10lbs 4oz) and made me SO uncomfortable. Check out this belly:
223lbs OUCH! On the way to the hospital for his arrival...
With Budderoo, I lost 41lbs in 3weeks. I had retained so much water...it was ridiculous.
So...here I am again. I've had enough and am determined to get this weight off. With having gestational diabetes twice, my chances of getting diabetes later in life has increased. I joined WW this past August with 3 of my friends...and since then...all of them have decided to try and do it on their own without the meetings. So, I go alone (which depresses me) and am working at the weight loss...slowly...I had lost over 18lbs, but have had a few off weeks recently and gained a bit back. UGH!
Wednesdays are my weigh in night...I worked so hard this past week, tracked everything I ate...and lost 2.6 lbs at the weigh in Losing a total of 16.4lbs. According to my scale, first thing in the morning, I had lost 5.6....so I was thrilled and am now even more motivated to get back to that first picture! Presently, I am 1lb away from my pre-pregnancy weight with Budderoo. I would love to get back to 140-ish...so I've got about 27lbs to go. I can do it this time!